DEFECTIVE AFTER-MARKET SCANIA BRAKE DRUMS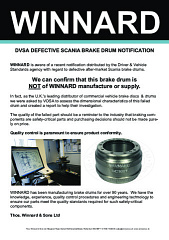 WINNARD is aware of a recent notification distributed by the Driver & Vehicle Standards agency with regard to defective after-market Scania brake drums.

We can confirm that this brake drum is not of WINNARD manufacture or supply.

In fact, as the U.K.'s leading distributor of commercial vehicle brake discs & drums, we were asked by VOSA to assess the dimensional characteristics of this failed drum and created a report to help their investigation.

The quality of the failed part should be a reminder to the industry that braking components are safety-critical parts and purchasing decisions should not be made purely on price.

Quality control is paramount to ensure product conformity.

WINNARD has been manufacturing brake drums for over 90 years. We have the knowledge, experience, quality control procedures and engineering technology to ensure our parts meet the quality standards required for such safety-critical components.

Thos. Winnard & Sons Ltd

Warning about seriously defective aftermarket lorry brake drums

Operators are being warned about seriously defective aftermarket brake drums that may be fitted to Scania P400 lorries within their fleet.

We are aware of 2 cases where aftermarket drums, which were not manufactured or supplied by Scania, have failed on P400 lorries.

No front braking

Both lorries were left without front braking and were fully laden.

The drums failed in the same way when the braking surface fractured and separated from the mounting ring. It is believed that this was not due to normal wear and tear.

The DVSA have been unable to identify the manufacturer but have released an image of one of the failed drums and are asking operators to let them know (on 0117 9543425 or vsb@dvsa.gov.uk) if they have similar drums fitted to their lorries and their supplier.