Brake Discs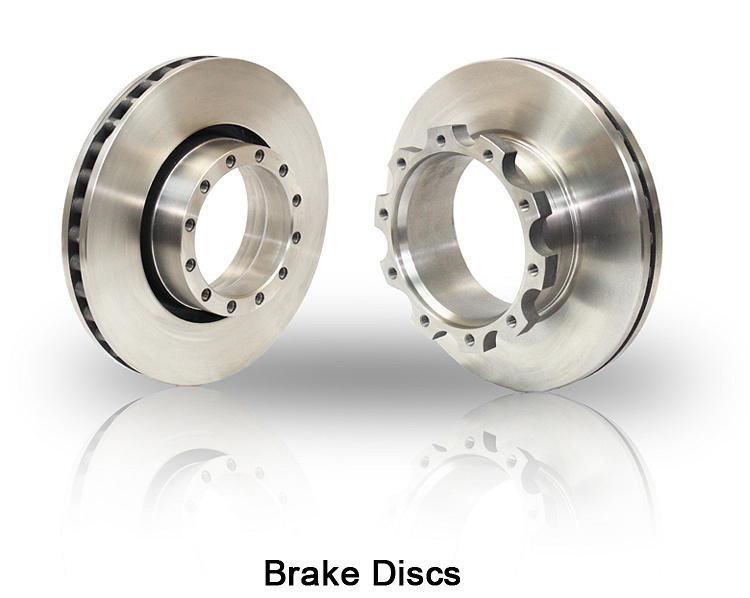 Winnard has one of the largest ranges of C.V. Brake Discs in Europe.
All our Brake Discs are manufactured to our specifications by ISO TS16949 accredited factories with most references having ECE R90 approval.
During the development process, we assess the design of the disc and make enhancements where appropriate.
These enhancements include improvements to the disc's thermal fatigue capabilities and reductions in corrosion of critical areas such as ABS teeth.
To ensure our Brake Discs meet the exacting standards required by today's modern vehicles we operate an OES-approved quality control system.
These systems and procedures ensure that our parts perform similar to Original Equipment.
WINNARD Branded Brake Disc Box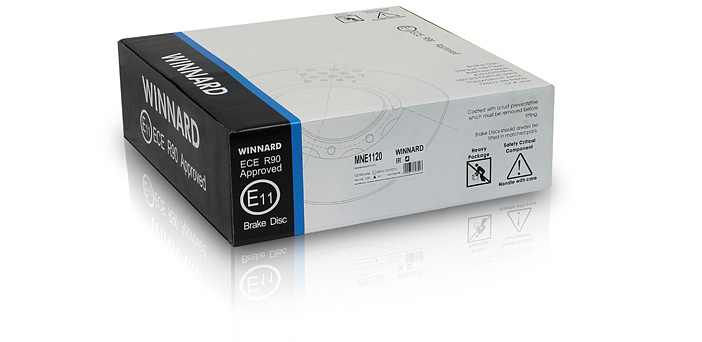 Brake Discs
ECE R90 is a European Standard which ensures that Brake Pads and more recently Brake Discs manufactured for the aftermarket comply with R90 standards. To meet these standards, the Brake Disc must be put through a series of tests and performed to similar levels as the Original Equipment part. Winnard Brake Discs are classed as "Interchangeable" ECE R90 Definition "Interchangeable brake disc" is a replacement brake disc which has the same interface dimensions as the original brake disc but may differ from the original brake disc in terms of its design, material composition and mechanical properties. Interchangeable Brake Discs have to pass the following tests:
Check / Test List
Geometric check (The critical dimensions are measured to ensure the brake disc conforms to the tolerances required to provide a safe and effective brake)
Material check (The chemical composition, microstructure and hardness are measured) Balancing provisions check (The balance of the disc is checked and compared to the OE part) Wear condition marking (Wear markings and minimum thickness specifications are matched with the OE part)
Integrity test - thermal fatigue Integrity test - high load Service brake vehicle performance test.
Product Awareness
WINNARD brake discs are clearly edge marked with our name, part number,
manufacturing batch and ECE R90 number where applicable.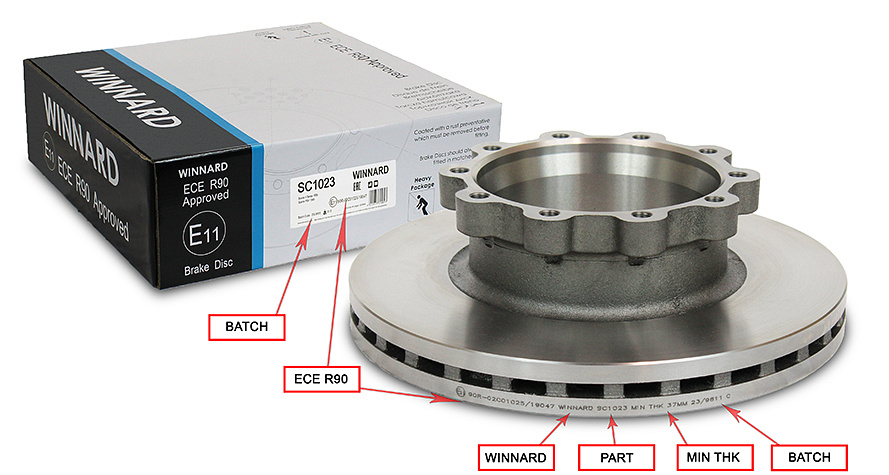 Design Features

All Winnard Brake Discs are manufactured to our engineering specifications. Design improvements are also incorporated where necessary including venting and ABS specifications.
Product Traceability

To give you ultimate peace of mind – all our brake discs are batch coded, giving us full traceability of the products we sell.
Brake Disc Applications

We're confident you'll find brake discs to match your needs – we stock brake discs for a wide-range of over 3000 industrial, LCV, PSV, truck & trailer applications.
Winnard Brake Disc Box Design

The Winnard Brake Disc box is designed to compliment our Brake Pad range and is protected by a plastic coating for added strength and weather protection. The batch code and product weight is printed on the outer label.